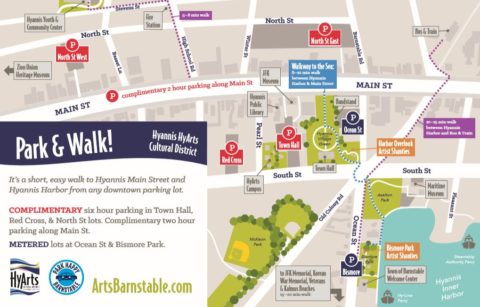 Hyannis Main Street has several options for parking. Along the street are spaces designated for either 20 minute parking or 2 hour parking. Be sure to take notice of the time limit on where you park. Surrounding Main Street are five different public parking lots. These lots are located on Main Street, as well as North and South Street, which run parallel to Main Street. The public parking lots are located at:
Ocean Street, behind 337 Main Street
North Street behind the 400 Block on Main Street (behind Puritan Cape Cod, British Beer Company, etc.)
Behind the JFK Museum at 397 Main Street
South Street, near 286 South Street
259 North Street, which is behind Main Street businesses including Sass on Main and 586 Bistro & Bar
Please note that there is no overnight parking on Main Street or in the public lots. Violators have been ticketed and towed in the past. If you are traveling to Nantucket or Martha's Vineyard, please park in the appropriate and approved Hy-Line Cruises and Steamship Authority parking lots.