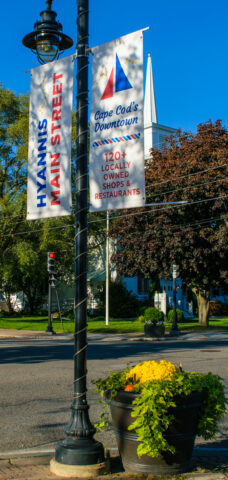 The Hyannis Main Street Business Improvement District (HMSBID) encompasses the area from the intersection of Main Street and Yarmouth Road to the intersection of Main Street and Dumont Avenue. It includes portions of several side streets including Center Street, Barnstable Road, High School Road, Ocean Street and South Street.
Hyannis Main Street is the Hub of Cape Cod. With its pedestrian friendly sidewalks and cross walks, outdoor cafes and dining, seasonal décor, events, museums and Walkway to the Sea, Hyannis Main Street is the ideal destination for your Cape Cod experience. Main Street is the center of Hyannis/ residential district, home to a post office, town government offices, the library, banks, convenience stores, dry cleaners, a hardware store, a regional transportation center and Cape Cod Hospital and other health care services.
Hyannis Main Street blends a downtown area of shopping, dining and entertainment with the charming ideals of a Cape Cod location. Each year, Cape Cod locals and visitors alike continue to visit and discover Hyannis Main Street, Cape Cod's Downtown.
In addition, the Hyannis Main Street BID runs a 501 (c) 3 non-profit, the Downtown Hyannis Community Development Corporation.