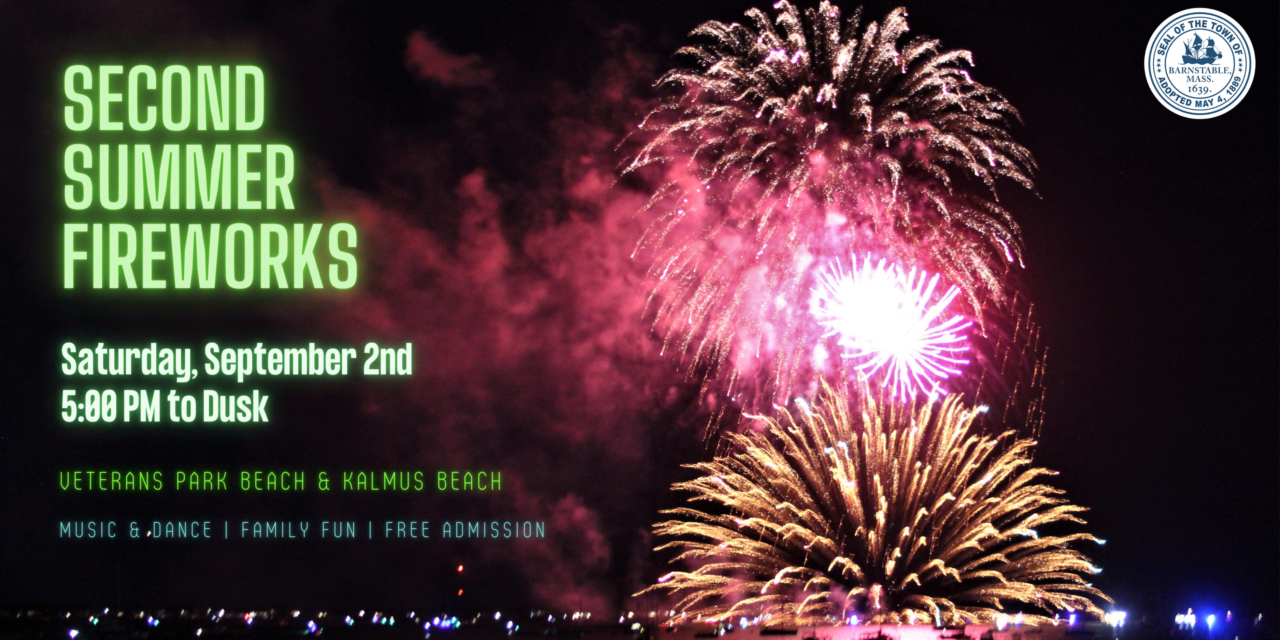 The Town of Barnstable is pleased to present Community Fireworks as a Second Summer Celebration on Saturday, September 2, 2023.  With sunset at 7:13 PM, the estimated start time is 8:00 PM.  Rain date is Sunday, September 3rd.
FIREWORKS VIEWING
The fireworks show will be presented from a barge in Lewis Bay over Hyannis Harbor. Kalmus and Veterans Beaches will be open for viewing and parking is free after 4:00 PM. Bathrooms will be open at both locations.  The Snack Bar at Kalmus will be open for the event and Perry's Last Stand Ice Cream trucks will be at Veterans. Family friendly games and activities are planned at Kalmus Beach from 5:00 – 8:00 PM including the Town of Barnstable's Marine & Environmental "Critter Truck", performances and workshops by Movement Arts Cape Cod, and inflatable fun for all. No alcohol/tobacco/cannabis is allowed on town property. Please be respectful of private property and park your vehicle in one of the locations mentioned below or other authorized locations.
The HyArts Artist Shanties will be open during the day at Bismore Park (Ocean Street) and the Harbor Overlook. Nearby Main Street Hyannis offers many great dining and shopping opportunities.
PARKING & TRANSPORTATION
PARKING – There are several municipal lots in downtown Hyannis where free parking is available for up to 6 hours and 2 hour maximum on Main Street and Old Colony Road. There is also Pay to Park at the Ocean Street and Bismore Park area lots.
Cape Cod Regional Transit Authority (CCRTA) has hourly parking available (after the first 30 minutes free) at the Hyannis Transportation Center. Long term parking is also available for daily rates.
CCRTA's Hyannis Trolley will be operating on its regular routes with a loop every 45 minutes throughout the day.  Normally the service ends at 9:00 PM but service will be extended as needed to accommodate riders following the fireworks.  For more information and service routes, please visit capecodrta.org
Fireworks Parking (Hyannis):  A Parking Ban will be in effect South of South Street (Ocean Street, Old Colony Boulevard, Gosnold Street and all streets running off of Gosnold Street) from 5:00 PM to midnight to allow for pedestrian access.  Parking will be available in the North Street parking lots and Town Hall parking lot.  Tow Away Zones will be strictly enforced and carpooling is suggested.