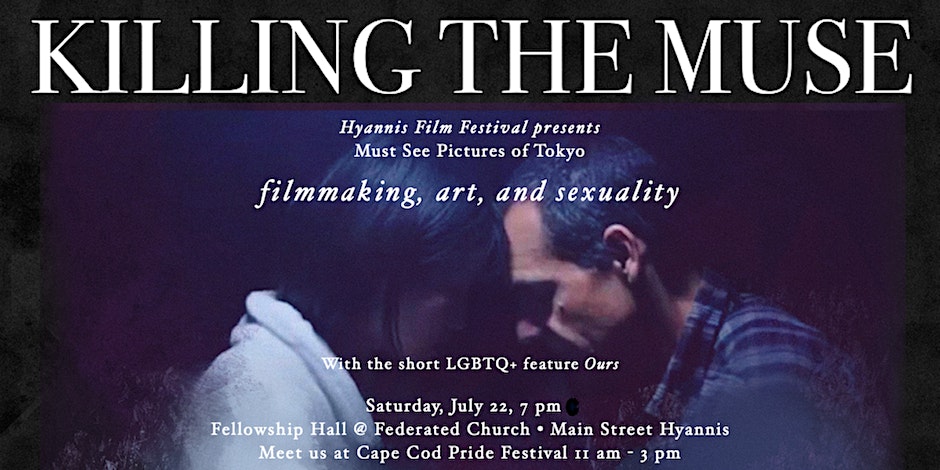 Killing the Muse will have its American premiere with the July 22 showing in Hyannis. The feature-length film follows a group of Japanese actors and director Steve J. Martin as they make a film called Eros' Stigmata, a movie about intimacy, sex, and the fragility of relationships. In self-reflexive and autobiographical scenes, the character-actors in Killing the Muse explore the art of filmmaking, sexuality, and their personal circumstances. How much does their art reflect their personal lives? Where and what are the boundaries of each? Killing the Muse proves to be intriguing and engrossing, mind-bending, and often funny— the title itself is ironic.
The accompanying short film Ours, by Kozue Ito of Orgel Theatre and Must See Pictures, features a woman photographer and her gay male roommate as they navigate their friendship, his romance with another man, and how to live happily in a society that doesn't embrace same-sex relationships and marriage. Ito has written a touching script, which she directs with a tender but firm vision.
Relationships in both movies are especially timely and relevant since Japan recently passed its first laws dealing with gender diversity and LGBTQ+ discrimination, although many LGBTQ+ rights activists consider the new laws to be inadequate. Nikkei Asia: Japan passes controversial LGBTQ law: 5 things to know
The films will be shown Saturday, July 22, 7 pm to coincide with Cape Cod Pride Day. Tickets are $15 for general admission seating, with doors opening approximately 6:30 pm in Fellowship Hall, behind the Federated Church of Hyannis, in the Historic East End. Enter on Willow Street across from the dry cleaners and the old bus station, or through the gate on Main Street on the east side of the church. Seating for this screening is limited.
Running times are 98 minutes for Killing the Muse and 30 minutes for Ours. Mature themes and adult situations, sometimes humorous. Mild Profanity. NO nudity.