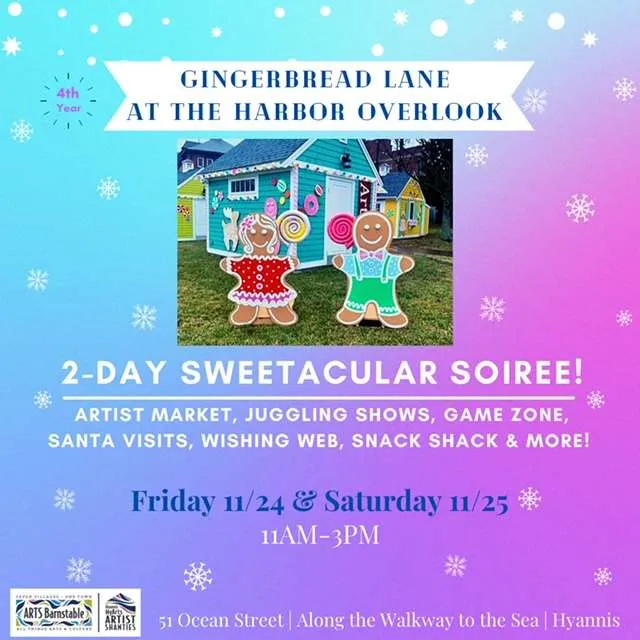 Sweetacular Soiree at Gingerbread Lane!
Harbor Overlook  | 51 Ocean Street Hyannis
Walkway-to-the-Sea through Hyannis Village Green to Harbor Overlok
TWO DAY FREE HOLIDAY EVENT
AT "Gingerbread Lane' at the Harbor Overlook
Friday, November 24 & Saturday, November 25, 2023, 11:00am to 3:00pm
Artist market | Juggling shows| Caroling with Carol| Family fun game zone
Snack Shack | wishing web | Good fun and cheer!
Stroll, shop and smile along Hyannis Main Street to the Harbor Overlook!
ARTIST HOLIDAY MARKET AT THE ARTIST SHANTIES:
Support your local creatives and find something hand-made, designed or crafted by Cape Cod artists!
HOT FOOD & DRINKS  AND SWEET TREATS AT THE SNACK SHACK!
FAMILY FUN GAME ZONE with Shipyard Boulders:
Fun for all ages, play all your favorite outdoor games for FREE!
Get your body moving and challenge your mind.  Special this weekend, challenge your family and friends to earn discounts if you wish to purchase some games to have for your December holiday celebrations.
LIBRARY STORY SHANTY!
Welcome to Whoville, we bring you good cheer. Welcome friends from far and from near. Smile for photos with you as  the Grinch, take a free book,  two in a pinch,with some pages to color and crayons galore. A day spent in Whoville is never a bore!"
From your friends at the Hyannis and Marstons Mills Public Libraries!
VISIT WITH SANTA:
The jolly guy himself direct from the North Pole is excited to meet and greet all visitors on Friday and Saturday from 11:30am to 2:30pm.  Special Santa storytimes with The Night Before Christmas readings at Noon and 2:15pm!
TREVOR THE JUGGLER  PERFORMANCES:
Entertaining for visitors of all ages! These are free outdoor shows. Trevor brings world-class visually spectacular juggling skills and silly antics to Gingerbread Lane in a friendly and engaging  performance for the whole family! Be amazed as cutting edge skills illuminate creative possibilities within object manipulation… and creative possibilities within yourself!
Shows run approximately 8 to 10 minutes, with a 5 minute meet and greet /photo op after each show.  Show times are both Friday and Saturday:
11:00am;  11:45am;  12:30pm;  1:15pm;  2:00pm ; 2:45pm
WISHING WEB:
Share a special wish on the wishing web. Add your key to help unlock all the possibilities.  Feel the colorful collective magic of a community's aspirations and hopes. Celebrate making wishes and art!
CAROLING WITH CAROL:
Get your jingle jams on with Carol, caroling with holiday tunes and more!
PARK AND WALK!
FREE parking steps away in the Barnstable Town Hall Parking Lot. Walk through the Hyannis Village Green along the Walkway-to-the-Sea to the Harbor Overlook. Additional Public Parking Lots are steps away from Main Street! Town Hall, South and North Street parking lots – FREE, up to six hour. Ocean St. & Bismore Park lots are metered.
*Vendors and activities are subject to change or cancel without notice.
Gingerbread Lane at the Harbor Overlook ARTIST SPOTLIGHT:
Mary Dunn Cauley| Mosaics
Unique mosaic creations made from tile, glass, shells, beads, plates.  Cape Cod maps, birds fish and more! Custom orders are always welcome!
Instagram:  MaryDunnCaulymosaics www.capecodmosaics.com
Elaine Davis | Pleasantwood Cottage Creations
Elaine offers an array of items, including baskets, tote bags and trivets, using everyday clothesline rope.  Each creation is meticulously cooked and shaped before being expertly stitched with a zig zag pattern using a sewing machine.  The colors of these charming items are determined by the color of the thread used, while others get their color from hand-wrapping the rope with vibrant fabrics.  Explore the collection and bring home one of these unique handmade treasures that add a touch of creativity and style to your life.
email: plea[email protected]   etsy: pleasantwoodcottage.Etsy.com
John French | Glenstal Glass
Originally from New Jersey and living on Cape Cod for the past 35 years, John is a recently retired English Professor from Cape Cod Community College and an Ecumenical Catholic Priest.  He is also a Barnstable County Extension Master Gardener and loves biking, kayaking and his two spaniels, Katie and Tess. His interest in stained glass began while he was a young Benedictine Monk.  He learned the techniques and design from other monks and has been making stained glass ever since. His pieces include but are not limited to abstract, religious, floral and nautical and rainbows. Since his retirement in May of 2020 he has devoted much of his time to his glass. He believes that looking out a window through a piece of colored glass allows us to see the world in a new way. The phrase, "looking at the world through rose colored glasses" is not all that far from the truth!"
email: [email protected]
Adrianna Rossi l DRI ROSSI PAPER ART
Adriana works with high quality paper (origami and collage) to create unique jewelry, ornaments, mobiles and wallets. One of her most impressive work is the miniature crane in the bottle necklace.  She creates it using a 3/4 of an inch square paper! Instagram: @dri_rossi_paper_art.
Alyssa Ruggieri l ALR DESIGNS
Alyssa creates both serene and whimsical watercolor art ranging from cape landscapes to sharks, and florals. During the holiday season she offers unique and beautiful hand painted ornaments, adorable holiday cards, and framed artwork, one of a kind shell-art pieces, keepsake gifts and even stickers for stocking stuffers! Her signature greeting cards are created with the intention that they can be framed or displayed, like a mini piece of artwork. Her holiday ornaments are created with the same intention, to add a one of a kind piece of art to your tree, and have already become a time honored tradition for many families.  Alyssa creates art for you to love and love to share.
Instagram: @ALR.designs   Website: www.ALR-designs.com
Margo Sherman l CAPE COD ACCENTS
Margo offers original designs of beach bags, large totes, pillow covers, runners, place mats and other assorted fabric items.
Website: http://www.capecodaccents.com
Elisa Sullivan | SWIRLS JEWELRY
Elisa Sullivan, silversmith and jewelry artist.  Inspired by her love of reading, her fondness of the sea, and the world as seen by her son, Massachusetts jewelry artist Elisa Sullivan shapes sterling silver to create jewelry that stands apart. Her necklaces, earrings, and bracelets often feature special quotes or phrases, hand-stamped in silver to create little works of art with special meaning to those who wear it.  Elisa incorporates different styles, hand crafted methods and unusual gemstones to create a complementary mix of natural and modern pieces.
Website: https://swirlsjewelry.com/
Instagram: https://www.instagram.com/swirlsbyelisa
Betty Wiley l BETTY WILEY PHOTOGRAPHY
Betty Wiley is a well-known free-lance landscape photographer and educator residing on Cape Cod and her images frequently appear in various local magazines including Chatham Living by the Sea magazine, Cape Cod Guide, and South Shore Living, and Falmouth Living and many local guidebooks. She specializes in photographing the landscapes on Cape Cod and elsewhere throughout New England and she often heads out in the morning before sunrise or in the evening as she explores the riches of the Cape with her camera as well as her drone and is passionate about night photography and capturing the Milky Way.  She sells prints in a variety of sizes on fine art paper, canvas or metal. Instagram: www.instagram.com/bettywileyphoto website: www.bettywileyphotography.com