2019 Cookie Stroll Winner – 1st Place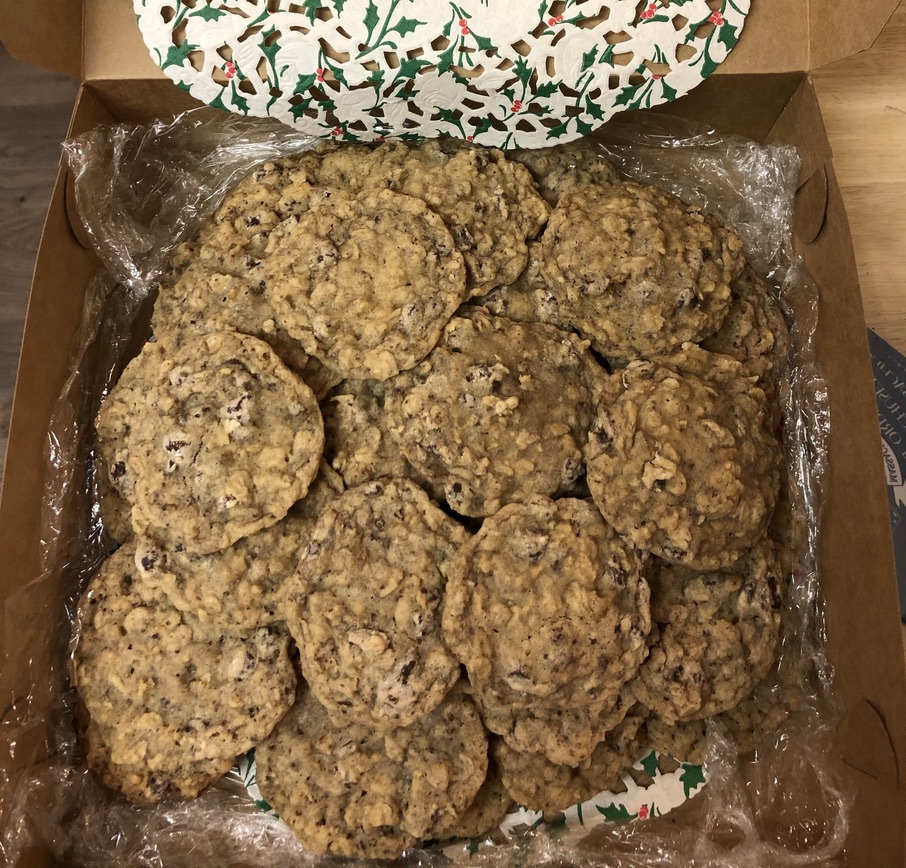 Salted Oatmeal Chocolate Chip Cookies
INGREDIENTS
1 1/2 cups all-purpose flour
1/2 cup whole wheat flour
1 tsp. baking powder
1/2 tsp. baking soda
1 tsp. kosher salt
1 cup (2 sticks) salted butter, room temperature
1 1/2 cups (packed) light brown sugar
1/2 cup granulated sugar
2 large eggs
2 cups old-fashioned oats
1 Tbsp. vanilla extract
6 oz. semisweet chocolate (at least 60% cacao), chopped
PREPARATION
Whisk all-purpose flour, whole wheat flour, baking powder, baking soda, and salt in a medium bowl.
Using an electric mixer on medium speed, beat butter, brown sugar, and granulated sugar in a large bowl until light and fluffy, 3–4 minutes. 
Add eggs one at a time, beating after each addition to incorporate before adding the next. Reduce mixer speed to low and gradually add dry ingredients, beating until just incorporated. Add oats and vanilla and beat just to combine. 
Fold in chocolate with a spatula.
Turn dough out onto a work surface and flatten to a disk. Freeze 15–20 minutes to prevent dough from spreading too much as it bakes.
Meanwhile, place racks in upper and lower thirds of oven; preheat to 350°F. Line 2 rimmed baking sheets with parchment paper.
Bake cookies, rotating sheets front to back and top to bottom halfway through, until just golden brown around the edges, 12–15 minutes (cookies will firm up as they cool). Let cookies cool on baking sheets 5 minutes, then transfer to wire racks and let cool completely. Let baking sheet cool completely before lining with fresh parchment and spooning on dough for third batch.