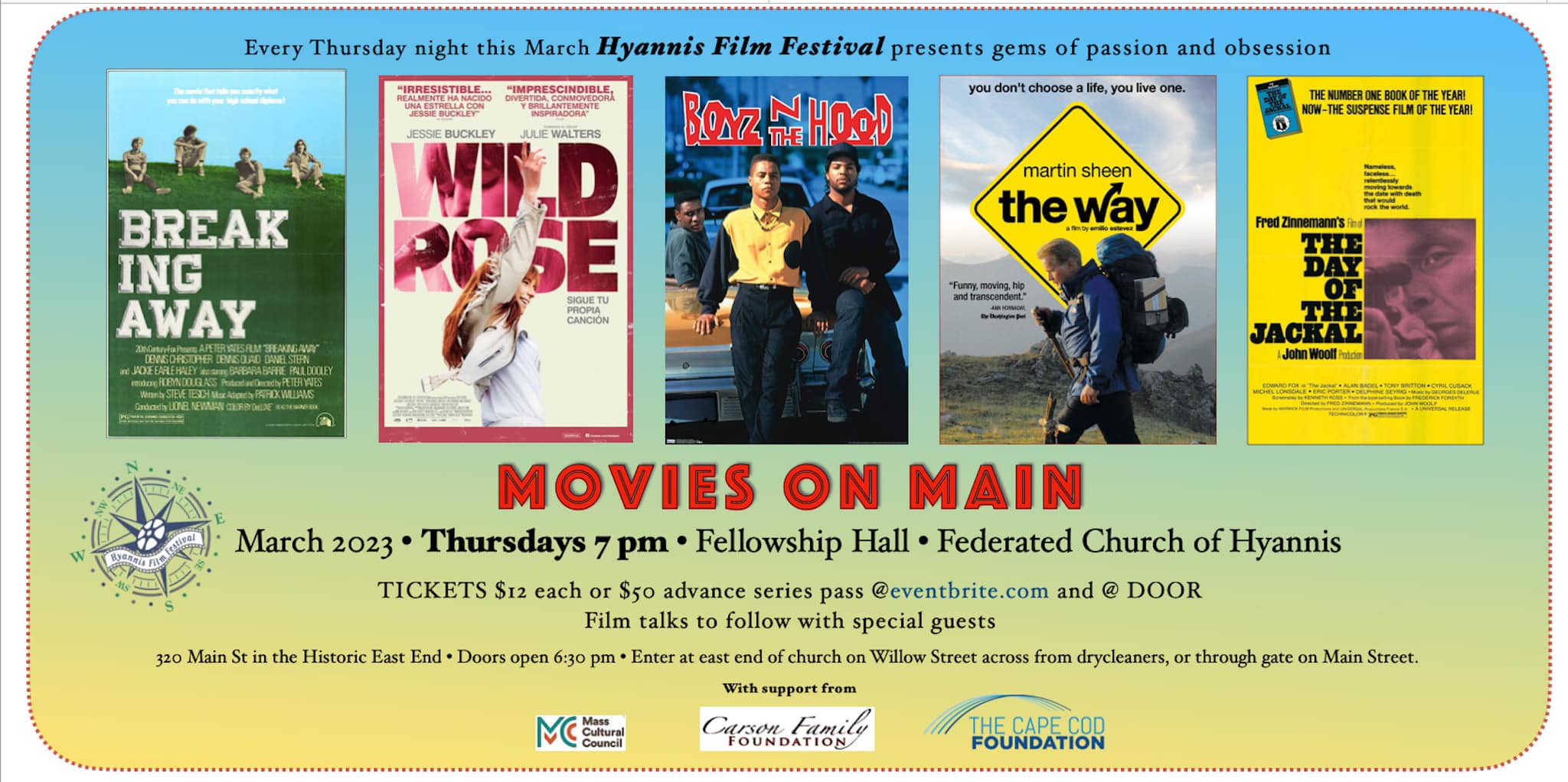 Hyannis Film Festival presents a late winter series of Movies on Main Street in Hyannis. Film gems of passion and obsession with talkbacks.
These remarkable movies include the coming-of-age drama Breaking Away (1979); the electrifying Wild Rose (2018), the story of a Scottish woman's passion for country music; the explosive and groundbreaking drama Boyz N the Hood (1991), the heartwarming story The Way (2018), about a grieving father's pilgrimage to honor his son; and the acclaimed, mesmerizing thriller Day of the Jackal (1973), considered to be among the finest examples of directorial achievement.
The five films will be shown during March on Thursday nights at 7 pm in Friendship Hall at the Federated Church, on Main Street in the Historic East End of Hyannis. Discussion follows each movie; special guests to be announced may lead some.
Breaking Away • Thursday, March 2, 7 pm
Wild Rose • Thursday, March 9, 7pm
Boyz N the Hood • Thursday, March 16, 7 pm
The Way • Thursday, March 23, 7 PM
Day of the Jackal • Thursday, March 30, 7 pm
Individual film tickets available on Eventbrite
We're excited to return to Fellowship Hall at The Federated Church of Hyannis, on Thursday nights in March. Founded in 1917, The Federated Church of Hyannis is an independent, interdenominational church with origins going back to the Pilgrims and other religious dissenters who founded Plimoth Plantation and the Massachusetts Bay Colony.
Since the founding of Hyannis Film Festival we've made it our mission to showcase the diversity of people who live on and visit Cape Cod. We hold events on Main Street in Hyannis to help elevate the arts and culture in the downtown area and to bring patrons into Main Street businesses. We encourage you to visit Hyannis Main Street retailers and restaurants.
Your support and attendance helps us continue the momentum we 've built the last three+ years, including our upcoming Hyannis Film Festival weekend on Main Street, this fall on Friday, November 3 and Saturday, November 4, with a spotlight this fall on neurodiversity.
A PATRON PASS of $50 admits the pass holder to the five movies during March and helps our future planning.
Support for Hyannis Film Festival has been provided by the Massachusetts Cultural Council, Cape Cod Foundation, the Carson Family Foundation, and more than two dozen Hyannis businesses. For telephone inquiries and more information, call Bill Ferrell, managing director, 508-228-8535.