The Hyannis Main Street Business Improvement District is here to answer any questions you may have during the permitting and regulatory process.  Please give us a call at 508-775-7982.
Business Barnstable has put together a Hyannis Prospectus that has helpful information for the development process.
Kyle Pedicini and Maggie Flynn, with the Town of Barnstable Planning & Development Department can help: Kyle Pedicini, [email protected] , Maggie Flynn, [email protected]
Below you will find information on:
Permitting
Zoning
Sale and Leasing
Permitting
Before starting any business or construction work please:
Visit the Town of Barnstable Regulatory Services website.
Below is a list of items that will need town approval. This list is not necessarily complete list.  In order to register your business with the Town, please visit: You Wish to Open a Business
Before making any aesthetic changes to the outside of a building, including signage:
These are subject to Hyannis Main Street Waterfront Historic Commission review within the Historic District and the Design and Infrastructure Plan review if the project is outside of the Historic District.  This would include such items as painting, re-roofing, doors, or windows replacement, change in façade, signs, etc.
Outdoor Dining:
Construction – Rehab, redevelopment or new:
Applications may or may not require Site Plan Review, may or not require a Building Permit, may or may not require Hyannis Main Street Waterfront Historic Commission review. The town staff always advise applicants to confirm project requirements first.
Zoning
New zoning, approved for Downtown Hyannis on February 2, 2023 allows for . . .
Increased density for mixed use and multi-family development in the Downtown Hyannis Zoning Districts (see map below) fostering a more predictable built outcome and produce a high-quality public realm.
Consolidated and better defined zoning districts
Updated dimensional standards
Form-based zoning techniques
The provisions of each district address the . . .
•Relationship between building facades and the public realm;
•Size, shape, and scale of buildings in relation to one another; and
•Regulation of land uses through broader, more permissive categories to foster innovative economic growth.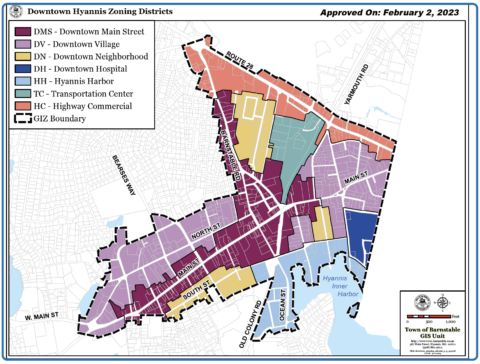 Sale and Lease Information
There are a number of active commercial realtors working in Downtown Hyannis, www.loopnet.com is a great jumping off point for commercial realty. Feel free to reach out to Elizabeth Wurfbain, 508-775-7982, if you need any help.